Welcome to RightAway Tent
Thank you for stopping by. We are happy you have found our space on the web. RighAway Tent is one of the premier tent & accessory rental companies serving the Lower Mainland, Kelowna, Penticton, Victoria and surrounding areas.

Along with offering an outstanding product, we also pride ourselves on providing tent installation, on-time delivery and of course high quality service.

Please have a look around our website where you can find out more about the products and servcies we offer. And if you have any questions or comments, please feel free to contact us!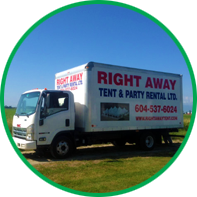 About Us
RightAway Tent has quickly become the most popular rental company around for weddings, birthday parties, corporate events and more. In business for the past 13 years, Right Away Tent continues to grow today!read more >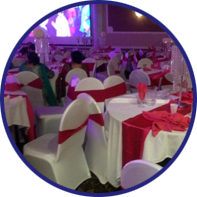 Our Services
We are proud to be able to offer a virtual plethora of quality services here at RightAway Tent. Click the read more link to find out more information about what we can do for you.read more >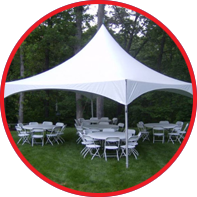 Our Products
Beyond our premium customer service, what separates RightAway Tent from the competition is the catalogue of high quality products. Tents, tables, chairs, BBQs and much, much more!read more >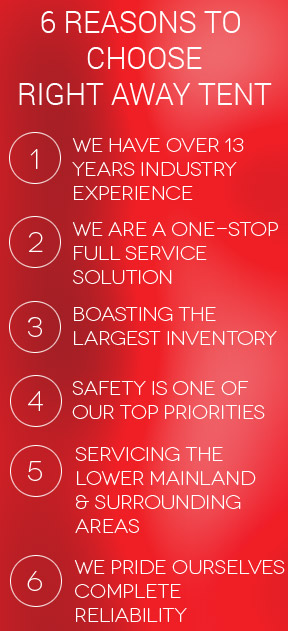 What Our Clients Are Saying
"We were looking for a rental company for our daughter's wedding. Of course we really wanted everything to be perfect. We required a couple tents, tables, chairs, you name it. Right Away Tent was instrumental in making everything go without a hitch. Their products were awesome and their setup service was a Godsend. I wouldn't hesitate to recommend them for any event you have coming up!"

Angela DeHauve (Surrey, BC)

"Our car club was holding it's annual rally and we needed a place where we could rent a tent, a bunch of tables and chairs, as well as some BBQs and Coffee Urns for the roundup after party. It was a rather large event, 100 or so people. And it was awesome! If it weren't for the help from Right Away Tent, with their products and staff, the party would've been a flop. Right Away not only provided all the items we needed, but also did the setup and tear-down. It was perfect. Thanks guys!"

Jeff (Port Kells, BC)